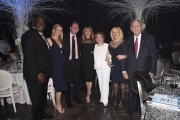 Miami, FL, February 2, 2016 (Newswire.com) - ​​​​​​​​Miami's SOHO Studios was transformed into a winter wonderland when they opened their doors to Jackson Health Foundation's annual Golden Angels Gala on Jan. 23. With temperatures in the mid-fifties, the South Florida night provided the perfect back drop for the aptly themed gala, 'Something Cool is Happening at Jackson.'
The Golden Angels Gala, the Foundation's signature event, serves as a platform for recognizing and honoring members of the Golden Angel Society for their unyielding support of the Foundation's goal to support the areas of greatest need across Jackson Health System. "The gifts provided by our Golden Angels are vital to the Health System's ongoing development and its ability to pursue excellence in patient care," said Keith R. Tribble, President and CEO of Jackson Health Foundation. "The Gala provides us with the perfect opportunity to publicly thank our benefactors for their generosity."
The Whitman Family|Bal Harbour Shops, Grand Gala Sponsors, helped the Golden Angels welcome over 800 philanthropists, community leaders, and dignitaries. WPLG Channel 10 Anchor Laurie Jennings served as mistress of ceremonies as guests dined and danced underneath a snow covered forest. They were served their choice of beverages at  Icicle and Iceberg Bars sponsored by Southern Wine and Spirits, the Black Ice Bar courtesy of Robins & Morton, and at the Igloo Bar sponsored by the Whitman Family|Bal Harbour Shops. The Gala's Corporate Underwriter, Ken Gorin of THE COLLECTION, provided raffle patrons with their choice of either an Audi Q5 or an Audi A5 as the grand prize.
"The gifts provided by our Golden Angels are vital to the Health System's ongoing development and its ability to pursue excellence in patient care," said Keith R. Tribble, President and CEO of Jackson Health Foundation. "The Gala provides us with the perfect opportunity to publicly thank our benefactors for their generosity."
Fana Holtz, naming benefactor of Holtz Children's Hospital and Janice Lipton, both members of the Foundation's Board of Directors and Golden Angels Gala Chairs, were recognized by  Board Chairman Silvia Rios Fortun and Keith R. Tribble, for their dedication and support of Jackson.
During the gala, Lifetime Humanitarian Honorees Harvey and Roberta Chaplin, were recognized as Golden Angel Society Grand Seraphims for having given over $5 million dollars in support of programs, renovations, and construction at Jackson. Golden Seraphims Ophelia and Juan Roca, were recognized as Honorary Chairs. Event benefactors also included Ivette and Alan Atkinson, Philippa and Marvin Carsley, Swanee  and Paul DiMare, Greenberg Traurig P.A., Fana and Abel Holtz, Jose Milton Foundation, Janie and Ron Kuperferman, Janice and Alan Lipton, Martaligia and Carlos Lopez-Cantera, Owens & Minor, Robins & Morton, Wells Fargo, Silvia Rios Fortun with Remedios Diaz Oliver, Ines Lorenzo Gomez, and Dr. Silvia Trinidad.
Over $2 million dollars was raised through the Golden Angels Gala which will be used to support Jackson Health System in their goal to not only expand services across new communities but make the healthcare experience better for patients, physicians, and staff.
For more information on the Jackson Health Foundation's programs and initiatives, visit www.jacksonhealthfoundation.org or call (305) 585-GIVE (4483).